What is an Act! CRM system?!
Benefits of Act CRM system
This CRM system is a worldwide contact management solution. With Act CRM, all your contacts are quickly saved and easy to find. This is very easy for people who work and grow in their businesses. CRM is about making your life more effective with opportunities such as: organizing your business, third-party businesses, sales promotion, tracking, and managing affiliate marketing and others.
Useful applications for Act CRM 
Act CRM is proposed, which is the first working step to work. The next step is this available application. 
The best solution for your productive work its a Call Tracker(MagneticOne Mobile Works). It is exactly what you need if you want to store calls, track their duration, add your comments and voice notes, create rules for tracking.
Call Tracker for Act CRM is up-to-date.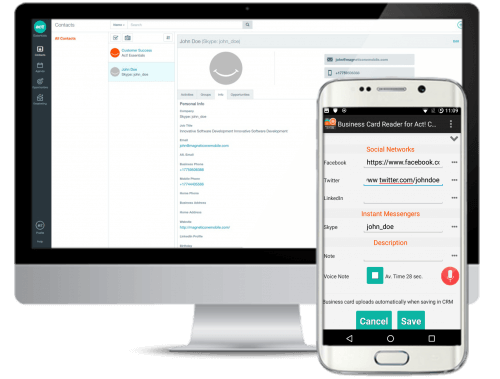 This application used to recognize business cards and save info into your CRM-system. The best way for cooperation with this application will be Act CRM.
This innovation solution let you create a huge set of additional data about your potential client, partner or colleague.
Modern thoughts about this CRM 
The modern world needs modern technologies and solutions.
Today, technologies are working for people, they are opening up new opportunities to all kinds of data. You will say that it is important. I will give you the answer that today everything is possible. You are left with the same applications and features that you need to do for your work and life. CRM is one of the systems that are available in workflows. All the necessary information will be saved and used for you. Having tried it once, you continue to work further, so this is a really easy life for business.
 An optional CRM supplement is also available to you before adding security information to more users.