Benefits of Insightly CRM 
Insightly is a state-of-the-art innovative CRM system that allows you to build business relationships. Insightly CRM helps you attract, and store data without restriction on your cloud.
This CRM – its modern solution for you!
Many ordinary people never think about CRM-systems, applications and other devices. It's worth thinking about it!
We live in the 21st century and modern technology is an integral part of our lives. Especially their value is noticed by people working in the field of business. When time is short and there are too many things to do, when you have a large number of partners, colleagues who are calling and you have to control it all. I Agree to work hard!  But the modern world is doing everything to make our lives easier and more convenient with the use of mobile applications. Nowadays, we cannot imagine life without mobile phones. With their help, we can do everything, order food, call a taxi, track calls, scan business cards, help a person, find a way, set a reminder, learn, develop, relax, and more. But the appropriate features require the right applications. Today,  there are current business applications. They save time and speed up productivity.
Applications that support with Insightly CRM  
Business Card Reader application helps to save business card information. Therefore, you scan a business card and store information in the CRM-system in our case Insightly CRM. It is very convenient and effective in modern life. 
This is an overview of how you can combine Insightly and our Business Card Reader to easily create and save new Leads or Contacts into your CRM system.
1) Install the Business Card Reader for Insightly CRM + Create an Account
Go to the "Google Play" or iTunes on your phone, download the Business Card Reader for Insightly CRM for free. When you launch the app, you need to authorize using your Google Account.
2) Set up the integration with your Insightly CRM
To integrate Business Card Reader with your Insightly account you need to enter the API Key.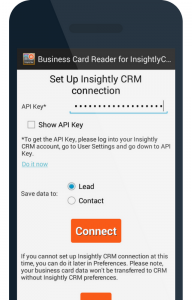 To get the API Key, please log into your Insightly CRM account, go to "User Settings" and go down to "API Key". Copy the API Key and paste it into the corresponding field in the application and click "Connect".
Useful note: You can choose where to save contacts in "Lead" or "Contact" on the same wizard screen or do it later in "Preferences".
3) Choose the recognition language + Scan Business Card
At the bottom of the wizard screen click on the "flag" icon, choose the recognition language and click "OK". Useful hint! You can choose a maximum of 3 languages. You can recognize a business card by clicking the "Camera" icon or from the "Gallery" by clicking the "Image" icon below.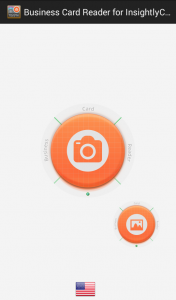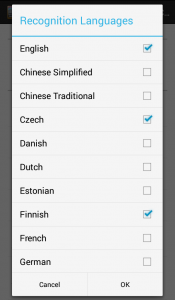 Important note: Prior to scanning don't forget to check if you have a tick on "Upload Card Image" in the "Preferences" menu if you want the image to be saved into your CRM directly!
4) Check/Edit the scanned info + Enrichment
   After you scan the business card info you are able to check the info plus insert new information. If you want to enrich data you need to click on the "Get more" button. You can get an additional person's info: social network account, company name, department, etc. You can choose from the list of what data you want to add and click "Save". All this information will be automatically added to your recognized info.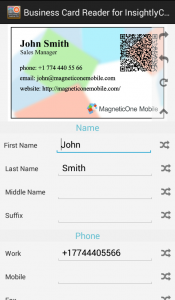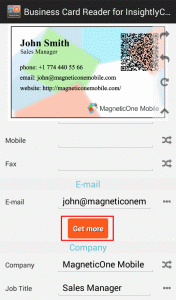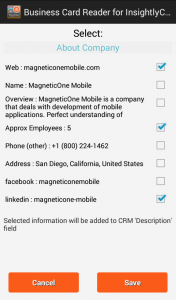 5) Add a note or a voice note
In case you have additional information you want to add you can make a note or record a voice note. Pay attention: The note will be saved to your CRM
When you add all data you want simply click "Save" data will be sent to the CRM. 
6) Saved info + Business Card Image
You can check the scanned info in "Leads" or "Contacts". Business Card image will be saved to your CRM directly.
If you have any questions or need assistance, please feel free to email us from the application "Preferences" => "Support Request".
There is also a great opportunity to save your calls to the CRM system.
Call Tracker for Insightly CRM this app allowed record calls, track their duration and you can add your comments, create rules for tracking and also you can add text and voice notes. 
So, if you don't want to be a loss in this world, develop with the latest technology. Only worth a try once!