If you're a business person, you are already busy and, I'm sure, you have lots of meetings. Though, you have got lots of your colleague's business cards after every meeting, which you might not remember to note down. Every person wants to save his time and not spend it on unnecessary things, such as gossips and taping all the info from the business cards into the mobile phone. While with gossips it's more difficult, we can solve the issue with taping the info from the business cards manually. This solution is Business Card Reader for HubSpot CRM. It's the easiest and quickest solution to transfer your business card info to the HubSpot CRM.
Let's take a brief guide on how does it work and how to use it properly.
Simple steps on how to get Hubspot Contact from a business card:

1) Install the Business Card Reader for HubSpot CRM + Create an Account
Go to the "
Google Play
" or
"App Store"
on your phone, download the Business Card Reader for HubSpot  CRM for free. When you launch the app, you need to authorize using your Google or Facebook Account or your CRM account.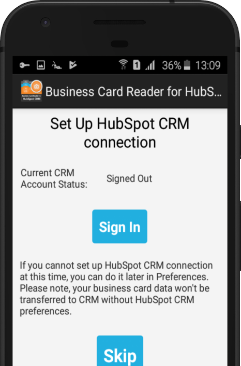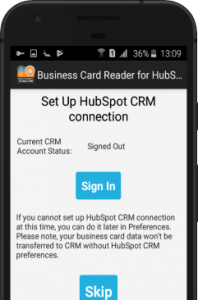 2) Set up the integration with your HubSpot CRM
First of all, when you
open it, you should add the Google account to synchronize credits and then move to the next page tapping the "Select" or  "Add new"(account) button.
Then you should set the HubSpot CRM connection for your business card data to be transferred into your CRM. The connection is performed via OAuth 2.0 authentication so you can be sure that all your data are sent in the safest way. First of all, you should enter your CRM account data and then the connection will be automatically established. You can do it right after first open or by going to Preferences => CRM Preferences later.
Important
We don't have access to your password, because it's shown only for you and only on the HubSpot site. That's why the authorization is very secure.
3) Choose the recognition language + Scan Business Card
At the bottom of the wizard screen click on the "
flag
" icon, choose the recognition language and click "
OK
".
Useful hint!
You can choose maximum 3 languages.
You can recognize a business card by clicking the "
Camera
" icon or from the "Gallery" by clicking the "Image" icon below.
Important note: Prior to scanning don't forget to check if you have a tick on "Upload Card Image" in "Preferences" menu if you want the image to be saved into your CRM directly!
4) Check/Edit the scanned info + Enrichment
   After you scan the business card info you are able to check the info plus insert new information. If you want to enrich data you need to click on "Get more" button. You can get additional person's info: social network account, company name, department etc. You can choose from the list what data you want to add and click "Save". All this information will be automatically added to your recognized info.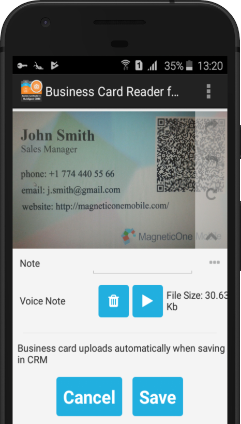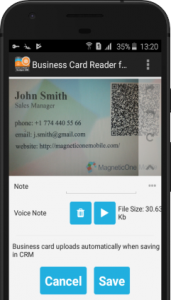 5) Add a note or a voice note
In case you have additional information you want to add you can make a note or record a voice note.
Pay attention: The note will be saved to your CRM, the voice note will be sent to CRM as well.
When you add all data you want simply click "Save" data will be sent to the CRM. 
6) Save info + Business Card Image
You can check the scanned info in "Contacts". Business Card image will be saved to your CRM directly.
If you have any questions or need assistance, please feel free to email us from the application "Preferences" => "Support Request". 
Business Card Reader for HubSpot CRM perfectly approaches to every business person. So, if you are on a business meeting and don't have time and the possibility to write down all the information about your colleagues, try this solution and save your time for more important things.