Business Card Reader Corporate License for iOS
Do you like using Business Card Reader?
Do you want to make the work of your colleagues or employees as productive as yours?
Business Card Reader corporate licensing is the solution your team needs!
You can choose the suitable plan for your awesome company and get rid of that mess with business cards.
What is corporate licensing?
Business Card Reader Corporate Licensing is the solution that your company needs! It is designed to provide
any corporate or commercial entity a simple purchasing process, sufficient quantity of business card
recognitions and affordable price. We offer a corporate key to be used by a team of people that considerably
simplifies authorization process.
What are the benefits of corporate licensing?
Single license key for the entire team
Possibility to use corporate key for multiple accounts
The gift of productivity for your company!
How can I order a corporate license for my team?
It is easier than it looks!
You can do it in one of two ways:
*Best if you want to buy via Google Play and when you need up to 8000 recognitions
---
*Best if you need an invoice or want the custom plan by request
Business Card Reader Corporate Plans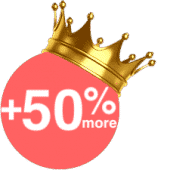 Number of

recognitions
Price
---
GET IN TOUCH
E-mail: contact@magneticonemobile.com
We are here to help! Feel free to send us any questions or suggestions you have