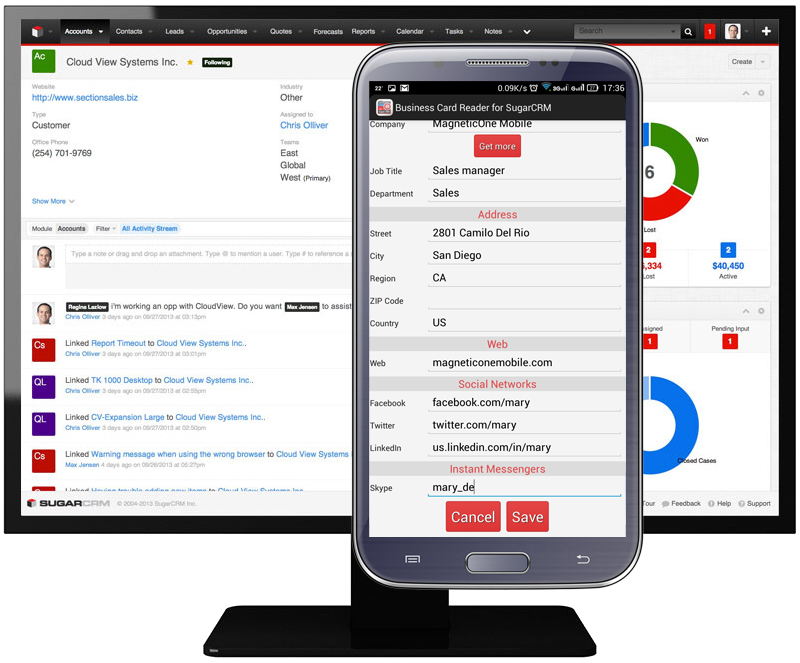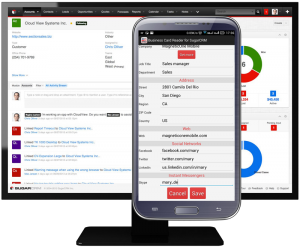 Feared of losing business cards? With this app, your smartphone can do this hard work more speedily and professionally.
What happens after a business event? You assemble a pocket full of business cards but never have a chance to enter the heap of cards into your contacts. A week later, you need to get back to one of the contacts and have to start searching through the piles. Isn't there a better way?
There is one. Let your smartphone do the heavy lifting for you.
How it works:
1. Snap a photo of a business card
2. Let the App recognizes it automatically
3. Get more data about the person and company.
Then add that info to the app's own database, to your smartphone's contacts listing and to your own Sugar CRM after quick sign up. We are currently supporting SugarCRM 6.2.x and higher, as well as SugarCRM web-service. The app will also retain the original image for reference (can be easily removed if necessary).
With MagneticOne Mobile Business card reader you can have 25 languages enabled in the app at any time, which is comfortable.
The software controls your camera's autofocus and captures the card, then gives you a chance to edit the resulting text.
Recognition accuracy depends on the quality of the captured image.
Business card reader for sugar CRM
For better accuracy:
– avoid glares that are produced by some types of illumination
– take control of focusing your camera
– try different angles to hold your smartphone snapping a photo.
The interface is convenient to use.
You can get contemporary communication fineness like Facebook, LinkedIn, and Twitter. The current version has the possibility to search the Web for a person on any of those services, and also you can add that person's social-media info into the context of the contact.
Once done, you can save the contact information to your local and to Google contacts. You can search the contact by name, organization, job or city, and you can organize contacts into groups. By default business card data is stored to your SugarCRM account as a Lead. And you can export contacts to a Sugar CRM,  the app's design makes it easy to move multiple contacts quickly.
MagneticOne mobile's Business Card Reader is one of the best options, especially if you have multilingual needs and easiest way to transfer all your contacts to CRM For convenient use, and search. Business card reader for sugar CRM