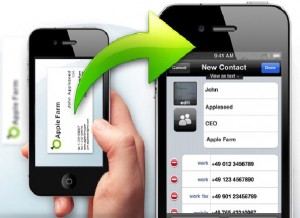 Business Card Reader
Manage your contacts effectively!
Your time is money, so don't spend this precious resource on retyping the contact data from a business card. Stay progressive, automate this process with Business Card Reader. Just a few moments and you'll get a business perspective right in your pocket. It's a lightning-fast Business Card Reader scan of your future leads and opportunities.
Get more contact data with Business Card Reader Data Enrichment feature*:
– personal info: interests, skills, social media contact, photos, behavior, etc.
– company info: size, industry, branch network, recent activity, etc.
How it works
Business Card Reader allows you to transfer the contact detail directly to your address book or/and google contacts. The process looks like the following:
Snap a business card using your mobile camera.
The app automatically detects all the information.
Verify the switched contact.
Enjoy the results!
Major Features
Business Card Reader allows getting all the right connections of your target audience in a few moments.
You may easily add a lot of business cards to your smartphone – up to 20 cards per minute.
Just one tap to transfer all the data to your smartphone.
Simple and fast CRM integration**
Business Card Reader operates via Android smartphone camera.
21 languages support together with the multilingual cards cooperation.
Data Enrichment option doesn't violate any laws and rights of privacy.
Data enrichment runs thoroughly using only trusted sources.
Business Card Reader always keeps your contacts secured.
Business Card Reader is available for such CRMs:
System Requirements
OS Android version 2.1 and higher, a camera with autofocus.
Interested? Fill in your details below.